The Truth about Postal Finances: USPS by the Numbers
Despite a common misconception and, unlike other government agencies, the Postal Service receives zero tax dollars for its operations and is instead funded entirely by revenues from postage and services. In FY 2013, the Postal Service saw a $623 million dollar profit delivering the mail
Then why all the focus on red ink in the news? Back in 2006, Congress imposed a huge and unprecedented mandate requiring that the Postal Service pre-fund future retiree health benefits for the next 75 years and do so within a decade – something no other public agency or private company is required to do.
This unnecessary mandate is the real problem. Learn the truth about postal finances and share the real story with your family and friends!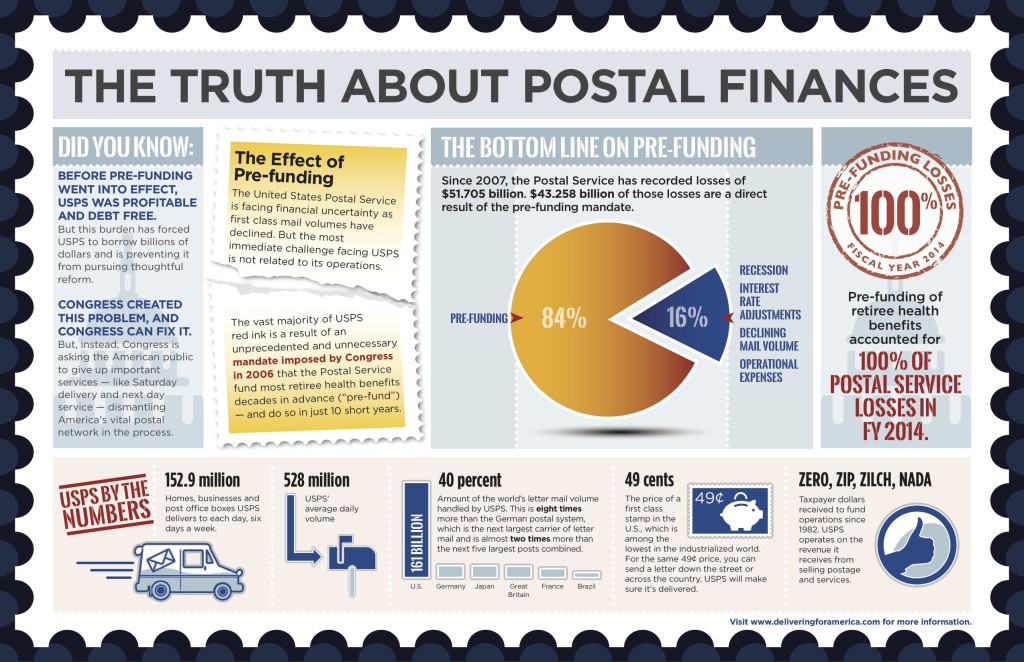 Quick Facts on Pre-funding:
According to the USPS Inspector General, the Postal Service's retiree health fund is funded at 49 percent of its estimated liability. In addition, USPS is the only enterprise in America that is required by law to pre-fund future retiree healthcare benefits. By comparison:

The federal government does not pre-fund its retiree healthcare liabilities
The military only funds at 35 percent

In the private sector, pre-funding is voluntary and only about one-third of the Fortune 1000 companies who offer retiree healthcare benefits choose to pre-fund.

As a direct result of pre-funding, USPS has reached its $15 billion debt limit. In 2005, the Postal Service was debt free. Today, it holds $15 billion in debt – all of it traceable to pre-funding. By forcing the Postal Service to use all of its borrowing capacity making these annual payments, Congress has prevented it from investing in new infrastructure, products and services to better serve American homes and businesses.

The ten-year time horizon put in place for making the scheduled payments was an accounting gimmick adopted to ensure the legislation complied with short-term budget scoring rules. Most other companies that pre-fund do so on a flexible and voluntary schedule that works for the company and that doesn't put their underlying business at risk.